"A nation that destroys its soils destroys itself." President F D Roosevelt (1935)
Because it's so widespread, you'd be forgiven for thinking ploughing and tilling is the only way we can grow food. 
Constantly disturbing the top layer of soil damages soil health and releases lots of CO2 (carbon) into the atmosphere. 
However, by studying nature, many scientists have realised the damage tilling (digging) the soil does. And also how beneficial leaving the surface of soil intact can be.
Ploughing land (inverting the soil), is a bit like burning the rainforest to make a piece of land fertile. It gives short term fertility, but damages the land over time. If you keep ploughing, the fragile ecosystem of the soil is damaged. It isn't sustainable.
Nature has its own system for creating fertility. You see it all around you in woodlands. It's the most perfectly fertile and sustainable environment.
Our 'no dig' growing system replicates a forest's sustainable growing system. It removes the need to plough, stores carbon and rebuilds soil health.
For an in-depth scientific explanation of how the Zerodig system works by Christopher Upton, click onto the button on the right.
Founders of the Zerodig project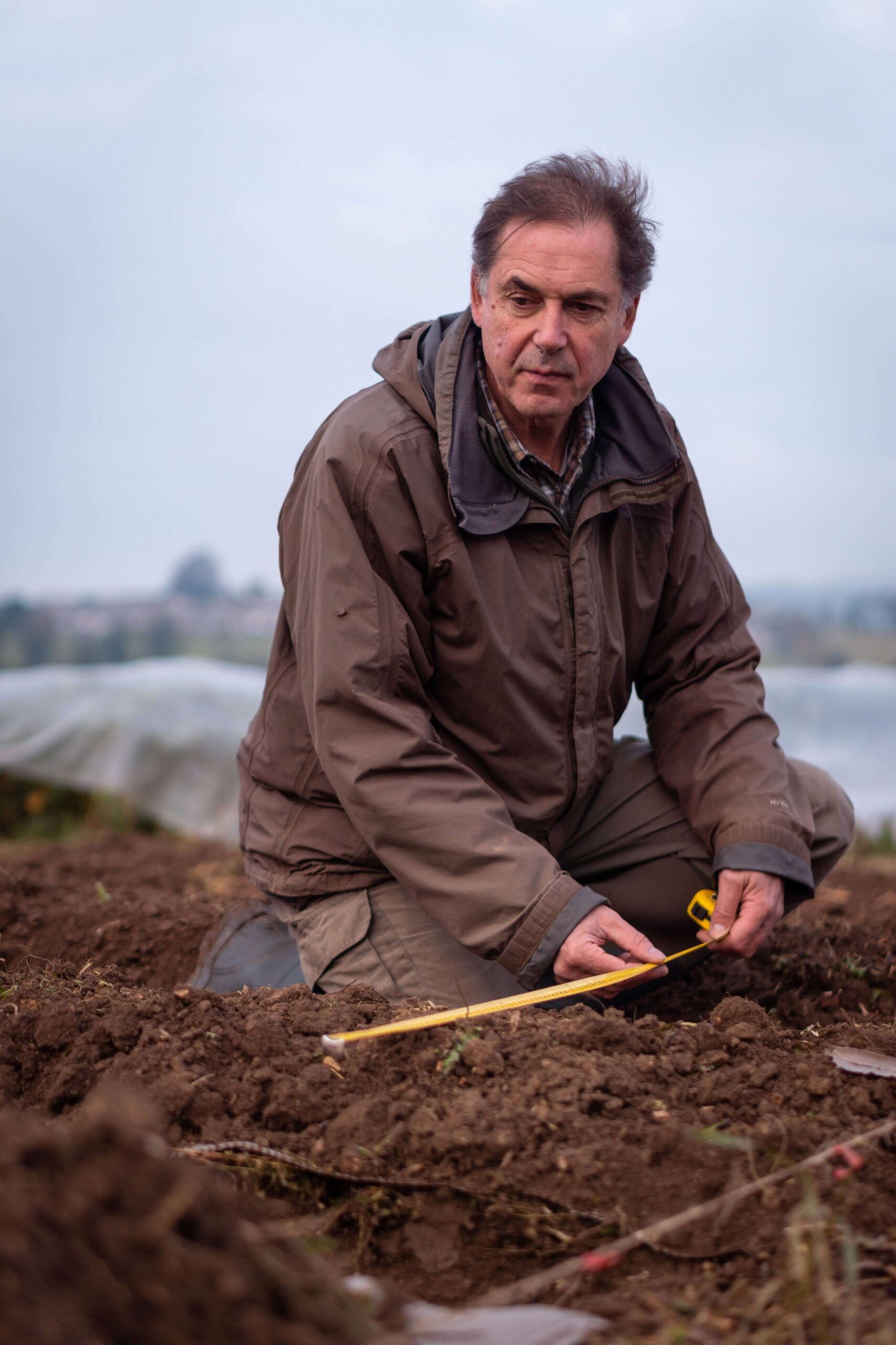 Christopher Upton, Co-founder
Christopher has been involved in climate action since the mid-1990s when he issued the world's first carbon-offset certificate to the government of Costa Rica, funded by the World Bank in 1997. This was included in the climate change conference in Kyoto, highlighting the positive roles that forestry and agriculture can play in mitigating climate change.
Christopher has an MA in Agricultural and Forest Sciences form the University of Oxford and a Masters degree in Agricultural Economics.
Since the 1980s he has been involved in a range of agro-forestry research programmes, the financing of farming systems in East Africa, and community tropical forest management in Fiji. In the 1990s he began working in tropical forestry and forest certification, where together with WWF he created the Forest Stewardship Council. Christopher has co-authored and published the Forest Certification Handbook.
He has completed numerous assignments on forest taxation and management for the World Bank, IMF.
He is currently most involved in farming systems in England, Switzerland, France and Ireland.
Dr Mario Peters, Co-founder
As Co-founder of Oxford based social enterprise Zerodig Farms Mario describes himself as an educational and social entrepreneur.

He has founded and run numerous educational and social enterprises in the U.K. and abroad.  These include The Earth Centre – developing climate action through regenerative agriculture for schools; and the MLP Foundation – supporting integrated activities around climate action, education and wellbeing.
His early career was as a research scientist at the University of Oxford, where he obtained his doctorate and worked in the field of space technology, developing cooling systems for scientific instruments on NASA space missions.

He subsequently developed a number of enterprises in Oxford employing several hundred tutors and focused on maximising educational added value regardless of ability.
Mario is at the forefront of developing the national network of Zerodig Farms and is particularly involved in the Zerodig market garden farm at Oakbrook Farm just outside Stroud.